Product Description
USB Extender 1.1 is an extender between USB device and host(computer), with 'intelligent' circuits integrated to both sides of the extender.
Use any CAT 5 / 5e or 6 UTP cable terminated with normal RJ45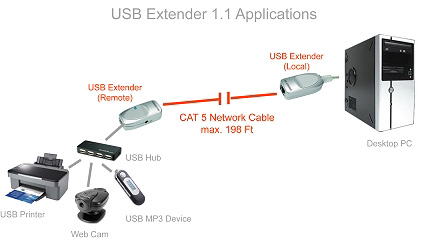 The built-in chip enables USB Extender 1.1 to work in active mode, rather than passive mode. To ensure signal quality, signals that go through USB Extender 1.1 are buffered on both host and remote sides. The active mode enabled by the embedded chip also prevents signal degradation. The built-in 'intelligent circuits purify and amplify USB signals, while monitoring USB 1.1 protocol status. The State Control Mechanism automatically enables and disables USB / Cable transmitters in the chip according to USB signal status.
Key Features
- Fully compliant with USB 1.1 specification
- Supports any full-speed (12 Mb/s) or low-speed (1.5 Mb/s) USB devices
- Allows a USB device to have its cable length extended up to 198 Ft
- Embedded USB 1.1 Transceivers prevent signal loss
- Offers cost-effective solution in comparison with usual Hubs or other USB extenders
- No software driver needed
- USB Led indicator extinguishes when there is no sufficient drawn current to carry signals
(an optional external power adapter is available for additional power supply)
Specifications
Local Unit Upstream Port USB Type A Male
Downstream Port RJ45 Jack
Remote Unit Upstream Port USB Type A Female
Downstream Port RJ45 Jack
Built In Cable Length 1 Feet
Interconnect Cable Standard Category-5/5e/6 Network Cable
Max Cable Length 198 Feet
Supply Current Drawn 20 mA
Operating Temperature 0°C~40°C
Storage Temperature -40°C~85°C
Applications
- WEB-camera
- Surveillance camera
- Printer
- Scanner
- Mouse
- Keyboard
- MP3
- Other USB devices
System Requirements
- Interface: One available USB port
- OS: Microsoft ® Windows ® 7/Vista/XP/2000/ME/98SE; Mac OS 9.X/10.X or Up
Package Contents
- Local Unit with 1 Feet Cable attached
- Remote Unit with LED indicator