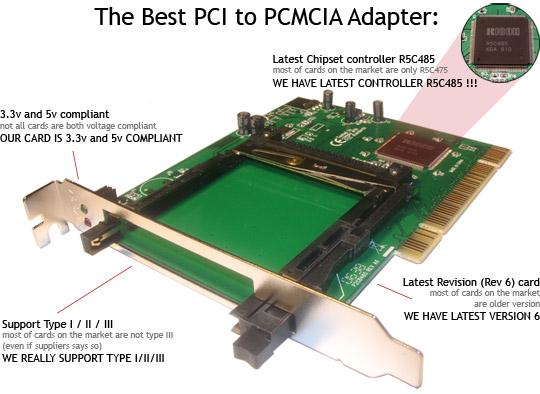 Product Overview :
PCI to PCMCIA Adapter - Totally Plug'n Play
Supports Types I / II / III Cards
Allows PCMCIA devices to be connected on a PCI slot of the host PC, such as 3G/HSDPA/UMTS/EDGE/GPRS modem Datacard, Wifi,LAN, Bluetooth, Firewire, USB card, SATA card... Supports All types of PCMCIA / CardBus PC Cards !!!
Features :
- Supports Types I / II / III Cards (real type III !!!)
- Latest Chipset Controller R5C485 !!!
- Support 3.3v and 5v (both voltage compliant)
- Latest PCI board (revision 6 - latest one available)
- PCI Specification Revision 2.2 compliant
- PC Card Standard Release 8.0 Specification compliant
- Ricoh R5C485 single PCI-CardBus Bridge chip
- Supports 16-bit (PCMCIA 2.1/JEIDA 4.2) and 32-bit (CardBus) PC card
- Supports Hot Swapping
- Support GPIO
- Support Plug'n Play
- Support Posting Write & Prefetching Read for PC Card bridge
- Support Zoomed Video Port ( Bypass type )
- Support PC Card LED
- Low Power Consumption
CE and FCC Approval
System Requirement :
- PC computer with one 32-bit PCI slot
- MS Windows 98SE / ME / 2000 / Server-2003 / Server-2008 / XP/ XP-64 / Vista / Vista-64
In the box :
- 1 x PCI to PCMCIA/CardBus Adapter Card
- User manual
Review on this PCI to PCMCIA Adapter :
Overall, this device is top notch. Installation is a breeze, and the support for the new Cardbus specification allows for the latest in PCMCIA technology to be used in your home PC. The fact that the device supports hot-swapping of cards is also note-worthy, as this will prevent down-time when installing a new card, as powering down the system is not required.