1 x HDV-Z96 AT 119.90 EUR/piece.
2 x HDV-Z96 AT 99.90 EUR/piece.
4 x HDV-Z96 AT 95.90 EUR/piece.
8 x HDV-Z96 AT 92.90 EUR/piece.
Product Overview:
The HDV-Z96 is an over-powered LED Light Panel (96 individual LEDs).
Normal price 199.90 EUR, our price 99.90 EUR.
Brighter, with +45% more power compared to other panels on the market, it has nothing to do with standard LED lighting.
In short: the HDV-Z96 is a very efffective LED lighting source designed for video and photography at an amazing cheap price.
The Z96 is compact, light and has a 16:9 ratio light source, perfect for HD video and photography.
Very easy to mount with its shoe adapter / bracket, it will fit any DV or DSLR Cameras / Camcoders.
Delivered with two magnetic filters (White and Amber) that can be easily attached to the front.
Video:
Technical Specifications:
- Illumination: Super Bright 800 Lux.
- Beam Angle: 65 degrees.
- Color Temperature: 5600K Pure Color Power LEDs (like daylight that produces clean and natural color)
- 2 Magnetic Filter Plates (White and Amber):
- Magnetic Yellow / Amber Warming filter: 3200K Tungsten.
- Magnetic White diffusion filter.
- Color Rendering Index (Ra): ≧85.
- Built-in battery for Sony L Series DV Battery (compliant with F550/570/750/970 batteries).
- Built-In AA Battery Power.
- Can be powered direcltly from the adapter.
- 16:9 Wide Form Factor.
- Compact size (127 x 75 x 45mm - 188 gr).
- Heat Free - Dimmable from 25 to 100%.
- Shoe Mount Adapter.
- Expandable Link System: multiple units canbe attached together using the included link brackets.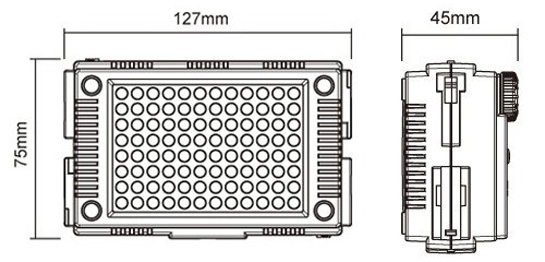 What's in the Boxcscart_
- 1 x HDV-Z96 LED Light.
- 1 x Magnetic WHITE Filter.
- 1 x Magnetic AMBER Filter.
- 1 x Manual.
- 1 x Shoe Mount Adapter.